Pawprint Pet Memorial Stone 12 x 12 Rounded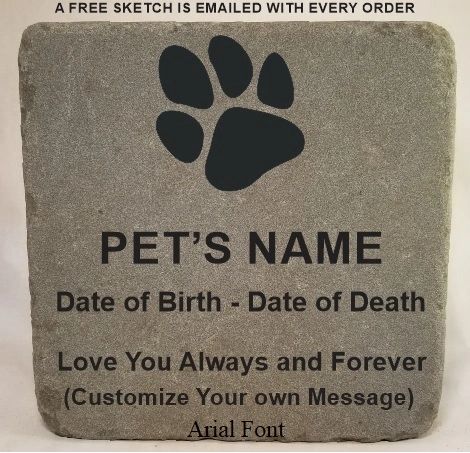 Pawprint Pet Memorial Stone 12 x 12 Rounded
FREE SHIPPING!!!  Fully customize your loved ones affordable custom pet memorial stone with your own personalized message. All orders ship within 72 business hours. 
The 12 x 12 tumbled blue stone square, weighs 25 lbs and is made from 100% natural Pennsylvania quarried only 15 miles from our facility. It comes between 1.5 and 2.5 inches thick (typically 2') and is engraved by our memorial specialists. It is painted with black outdoor paint and sealed with a weather protecting coating.
The engraving and surface can be colored to fit any design. We are glad to work with any customer to full customize a memrial or graden stone to their liking. Please email us at spystoneworks@gmail.com with your custom design and we will work to create a stone for you.